A common problem with the APC Smart UPS series of battery backups (UPS) is a lower Runtime after a battery replacement. For the Smart-UPS, an application known as APCFix was created that helps reset the battery constant.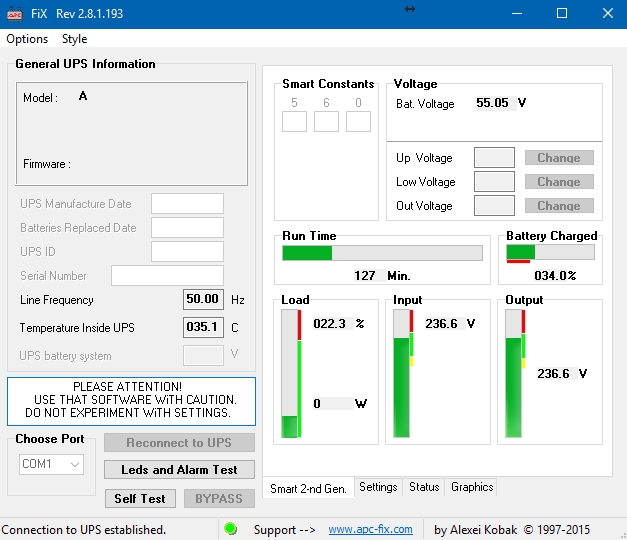 For the Back-UPS, there is a method, but it is not well documented in the forums or easily found performing a Google Search. For the Back-UPS or Back UPS series, there is a method for resetting the unit, and another for fixing the runtime after a battery replacement.
Disconnect all devices from the Surge and Battery+Surge side
Disconnect the power cable from the wall
Remove the batteries and leave them unplugged
Press the power button for 5 Seconds
Reconnect the batteries, then the power cable
Turn on the UPS
Reconnect all devices
Fixing Low Runtime
The Back-UPS units can last you many years but every 3-5 years you may need to replace the batteries. However, a typical BR1500G or BX1500G 1500 VA Unit should show over 200 minutes of Runtime remaining with no devices attached. After a few battery replacements, you can see this number drop to around 120 minutes or so. This problem will affect most of the older Back-UPS units with any VA capacity, such as 1300 VA, 750 VA , 600 VA, 450 VA, etc. The fix for this is provided by the PowerChute Personal Edition software. Here is to to apply the fix:
You will need the APC USB Cable. This cable connects to the Data Port on the APC Unit, and a USB Port on the Computer. Please make sure this is compatible with your UPS before purchasing.
Download and Install PowerChute Personal Edition.
Once you open the application it will detect and show information about your UPS.
Click on the Run-Self Test Option on the left Menu, and then click on Replace Battery Date (shown above). This will show you the last time the Battery was replaced, and also reset this date to the present date.
Once you perform the Reset, the battery runtime should change within a few seconds.
In the image above, we see the original Battery Runtime of 114 Minutes and a Replacement date of 11/09/2014.
And here is the result after the Reset is performed (Clicking Yes above). Reset date changes to present and the Battery Runtime now shows 262 minutes with no load (devices plugged in):
Recommended Items – Please make sure these are compatible with your device before purchasing:
Also check out: Amazon Products that work