Garmin's Aviation PC Trainers are very useful for Avionics familiarization and training. They are available for many Aircraft including single engine, multi-engine, Turbroprops and Jets. Although I have been informed they are working on newer versions of these trainers, many aircraft owners have CDs with older versions which can be buggy. In Flight Simulators, such as Flight Simulator 2020, prepar3d, FSX, X-Plane, etc., some of these trainers are installed as certain add-on/plugin components are dependent. Unfortunately, due to outdated versions, Windows Updates and other factors, these applications can crash, for example, let's review the Windows error log for the Citation M2's GTC Module:
Log Name:      Application
Source:        Application Error
Date:          4/25/2023 7:34:46 PM
Event ID:      1000
Task Category: (100)
Level:         Error
Keywords:      Classic
User:          Marty M
Computer:      DigitalJoshua
Description:
Faulting application name: GTCSimulator.exe, version: 0.0.0.0, time stamp: 0x5239aee6
Faulting module name: KRNL_SIM.dll, version: 0.0.0.0, time stamp: 0x5239ae6f
Faulting application path: C:\Program Files (x86)\Cessna M2 Trainer v4.00\GTC\sim\GTCSimulator.exe
Faulting module path: C:\Program Files (x86)\Cessna M2 Trainer v4.00\GTC\sim\KRNL_SIM.dll
The other well known problem is Blank or Black Screens. There are a few things we can do to Troubleshoot these problems…
Spaces in User Profile: Garmin Aviation Support let me know there is a bug which can affect some of the trainers, and that is having a space in your Windows User Profile Folder. Typically the full path for a User in Windows is C:\Users\User Profile\. If your trainer fails to launch or crashes, create a temporary user profile with no spaces, such as UserProfile – C:\Users\UserProfile\ and then try launching again within this user profile – This solved most of the problems for me. Even if you don't have a space in your current user name or user profile folder, a new user profile may solve the problem.


Exclude Garmin's Folders from Antivirus/Antispyware: In some instances, an overly protective Antivirus can cause some of the applications or dependencies to crash. Make exclusions in your Antivirus for all of Garmin's folders if possible. Make sure to review where you install your trainer, but in general these folders are (assuming C: is your main OS/program drive):
▪ C:\Program Files (x86)\Garmin\
▪ C:\ProgramData\Garmin\
▪ C:\Users\UserProfile\AppData\Local\Garmin\
▪ C:\Users\UserProfile\AppData\Roaming\Garmin\
▪ With some Trainers, Windows will run several files from the VirtualStore folder, for example, for the Citation M2 G3000 PC Trainer, the folder may be:
C:\Users\UserProfile\AppData\Local\VirtualStore\Program Files (x86)\Cessna M2 Trainer v4.00\
▪ Some files may also run from independent folders, example:
C:\Users\UserProfile\AppData\Local\Temp\garmin_gdu_sim_cpu0.dat

For Flight Simulators, Trainers or Addons are usually installed in a sub-directory, so make sure to exclude the entire Simulator Folder from your Antivirus.

You can use an application such as OpenedFilesView to view all the files in use by the PC Trainers once launched.


Restart Your Computer: If you just installed the PC Trainer software or just finished using it, restart your computer. The Garmin Trainers have many files and applications that need to launch for them to work properly. Sometimes these files are not closed or launched correctly. If you will be performing a re-install, make sure to Uninstall, restart your computer, and then re-install.


Contact Garmin: It's possible to obtain a newer version of the PC Trainer you wish to use. You can contact Garmin at: Aviation.training@garmin.com
For Technical Support: Aviation.Support@garmin.com
You may also contact your Aircraft's Tech Support Department.
Note: Also remember that some of these Garmin Aviation Trainers are Available for iPADS:
▪ Garmin GPS Trainer
▪ Garmin GTN Trainer
Useful Links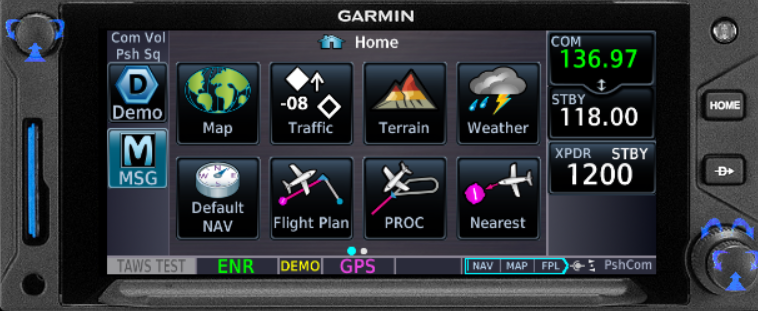 ---